Bookclubs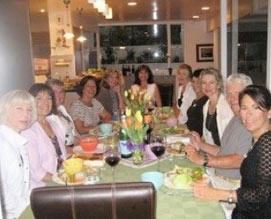 If you would like me to visit your book club to discuss The Removes, The Last Good Paradise, The Forgetting Tree or The Lotus Eaters, please email me through this link! I can come in person if you are in the Monterey Peninsula area, or by phone or Skype if you are farther away.
CAUTION: Discussion questions contain spoilers!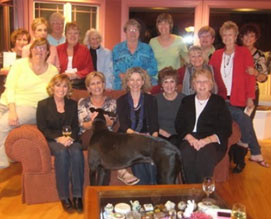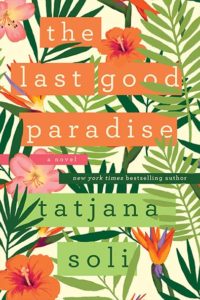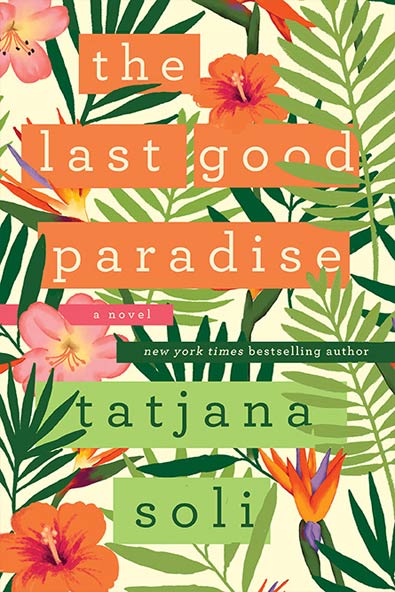 Discussion Questions for
The Last Good Paradise
1. Ann and Richard experience a strain in their relationship at the start of the novel, resulting from stress at work and a lack of intimacy. Do you think all couples face the same struggles to some degree? Of the two, do you think either carries more of the blame for their marital issues?
2. Dex retreats to the island in an attempt to escape his overwhelming depression and hoping to find inspiration for his next album. Do you think fame is to blame for Dex's unhappiness, or do you think he brought it upon himself? If he were never famous, do you think he would have treated the women in his life better?
3. Cooked and Titi, set to inherit the retreat, are strongly opposed to tourists at the start of the novel. Do you sympathize with their views of the tourists? Do you think tourism is more harmful or helpful in remote areas?
4. How do you feel about the choice Loren makes at the end of the novel? Are you able to understand why he made that decision? Do you think it was a fitting ending for his story?
5. The local islanders in the novel are wage slaves, forced to live in impoverished conditions rampant with disease, and to cater to wealthy tourists and French settlers in order to survive. What do you think about the inequalities and social injustices that less-developed civilizations are forced to endure? Whose responsibility is it to help them?
6. Loren and Ann draw shapes in the sand at two pivotal moments in the novel. What do you believe is the importance of these shapes? Did you find Ann's drawing fitting for the occasion? What do you think it said about her personal transformation?
7. The island that Ann and Richard run away to is totally unplugged. Do you think society is too tuned into technology? Does technology really bring people together? How did you feel about the webcam in the novel?
8. All of the guests at the resort are there in an attempt to flee from issues at home. Do you think it is possible to run away from one's problems, or do you think the only way to solve a problem is to face it? Have you ever wanted to run away to a desert island?
9. There are several cases of infidelity in this novel. Do you think the affairs in this novel should have been forgiven? How did the infidelities affect your views of the relationships in the novel? Would you forgive a partner under similar circumstances?
10. Richard is a chef who doesn't like working with meat. Do you think Richard is strong for continuing his career path despite his aversion, or weak for not being able to overcome his qualms? Have you ever done something even though it bothered you to accomplish a greater goal?
11. Which character did you relate to the most? The least? Why?
12. How do you feel about the decision Ann and RIchard make at the end of the novel? Can you imagine making such a decision? Why or why not?
13. All of the characters are looking for happiness in various forms. Do you think any of them find it or are closer to it by the novel's end? Do you think Americans are unique in thinking of happiness as an inherent right?
14. Much of the novel is about second acts in people's lives. Do you think second acts are possible, permissible, selfish, brave?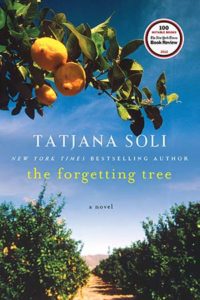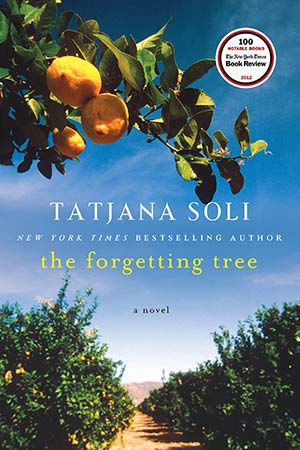 Discussion Questions for
The Forgetting Tree
1. Why do you think Soli named her novel The Forgetting Tree? How does the meaning of the title relate to the characters in the book?
2. How does the Baumsarg citrus farm shape the characters in the novel?
3. How does the loss of Josh Baumsarg affect the family? Forster and Claire react differently. How do you feel about the way they chose to live their lives afterwards?
4. Describe Minna. What is it about her that makes such an impression on Claire and her daughters?
5. How does Claire view herself as a mother? Did this perception change after losing Josh? As her daughters have grown into adults? In what ways did Claire's relationships with Gwen and Lucy evolve throughout the novel? What particular dynamics between parents and their adult children does Soli seem interested in exploring?
6. Describe Claire's relationship with her mother, Raisi, and her mother-in-law, Hanni. What life lessons does she learn from them? How does she pass these on to her own children? To Minna?
7. The novel is structured in four parts. Why do you think Soli chose this way to tell it? What do you think of this technique? Does it change the way you experience the story?
8. In Chapter 17, Claire "could no longer tell the difference between her white and Minna's black" What does she mean by this, and how does this suggest a theme of the novel?
9. Does knowing Minna's past absolve her from responsibility to Claire? Do you think she overcomes these motivations by the end of the novel?
10. Jean-Alexi states that the "lost got to help the lost in this world." In what ways are Claire and Minna lost? In what ways do they help each other out of this state? In what ways do they fail?
11. Why does Claire eventually let the farm go? Do you think this is a good or bad thing?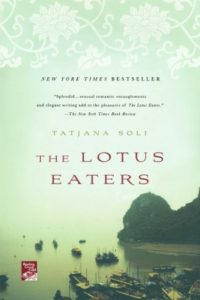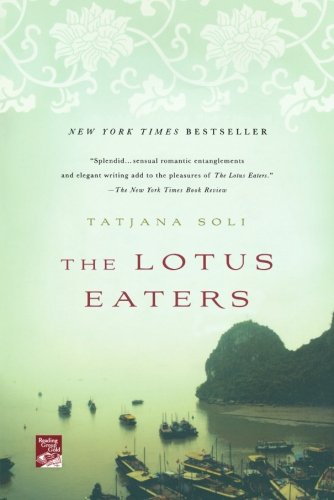 Discussion Questions for
The Lotus Eaters
1) Soli pulled the novel's title, The Lotus Eaters, from an episode in Homer's The Odyssey and uses Homer's description of the land of the lotus-eaters as the novel's opening epigraph. What connection do you see between Homer's lotus-eaters and the main characters of this novel? What, if anything, in this novel acts like the lotus described by Homer, so powerful and seductive it causes one to abandon all thoughts of home? Does each character have a different "lotus" that draws them in? How does the title illuminate the main themes of the novel?
2) The novel begins with the fall of Saigon, and then moves back in time twelve years to the beginning of the war. How do you think this structure contributed to your experience of the novel?  Did this glimpse of Helen in 1975 influence how you related to her character at earlier points in her life? Did knowing the outcome affect your judgment of her actions and the actions of those around her?
3) Helen makes a pivotal decision at the end of Chapter 1—to send Linh on the plane and stay behind to "see it end." Why does she make this decision? How did you feel about it? Did your feelings about it change over the course of the novel?
4) What does Helen think of Vietnam and the Vietnamese people when she first arrives in Saigon? How do her feelings evolve throughout the novel? How does this evolution affect how she comes to view the war and her role in it?
5) In Chapter 3, Darrow says, "The cool thing for us is that when this one's done, there's always another one… The war doesn't ever have to end for us." Why does he say this to Helen? What does it show about how Darrow views the war and about Darrow himself? When Helen repeats these words back to him in Chapter 11, how has their meaning changed?
6) In Chapter 19, Helen believes that "violence had poisoned them all…." In what ways are Darrow, Helen, and Linh poisoned? What, if anything, keeps each of them from being destroyed by it?
7) Throughout the novel, Helen finds herself in love, and loved by, two very different men. How would you characterize each of her relationships? Did you prefer Helen in one relationship over the other? What are each relationship's strengths and weaknesses? Which man do you ultimately believe is Helen's great love?
8) Mark Twain said, "Courage is resistance to fear, mastery of fear, not absence of fear." Bravery and courage are frequently mentioned in the novel. In what ways do the various characters display these traits? In what ways do they fail?
9) What do you think the future holds for Helen at the end of the novel? For Linh?