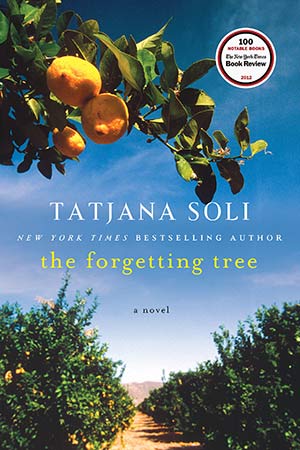 ORDER FROM:
Amazon
Barnes & Noble
IndieBound
Powell's

When Claire Nagy marries Forster Baumsarg, the only son of prominent California citrus ranchers, she knows she's consenting to a life of hard work, long days, and worry-fraught nights. But her love for Forster is so strong, she turns away from her literary education and embraces the life of the ranch, succumbing to its intoxicating rhythms and bounty until her love of the land becomes a part of her. Not even the tragic, senseless death of her son Joshua at kidnappers' hands, her alienation from her two daughters, or the dissolution of her once-devoted marriage can pull her from the ranch she's devoted her life to preserving.
But despite having survived the most terrible of tragedies, Claire is about to face her greatest struggle: An illness that threatens not only to rip her from her land but take her very life. And she's chosen a caregiver, the enigmatic Caribbean-born Minna, who may just be the darkest force of all.
Haunting, tough, triumphant, and profound, The Forgetting Tree explores the intimate ties we have to one another, the deepest fears we keep to ourselves, and the calling of the land that ties every one of us together.
Reviews
"Daring… haunting… The lesson Soli has to teach… is a salient one for the modern world: even a remote citrus ranch can be a crossroads where cultures collide, and those collisions can be life-changing for everyone involved. Soli writes with patience and wisdom about both sides of this relationship, allowing both of her central female characters the freedom to be eccentric and inconsistent, but also to learn from each other."
—NEW YORK TIMES BOOK REVIEW, JANE SMILEY
"A lush novel with two fascinating, complicated characters at its heart."
—BOOKLIST
"When the themes of a novel are so clearly a certain set of the Big Ones (family, loss, illness, forgiveness, and the like), it can run the risk of falling into saccharine Hallmark territory. To keep a story like this vital and compelling, rather than merely appealing to those more manipulative of our emotions, the characters must stay pinned to a believable reality, with a touch of darkness. Soli does just that. The book centers around Claire Baumsarg and her family, who run a California citrus farm that feels right out of Roman Polanski's Chinatown, where the land is unforgiving, irrigation is paramount, and evil lurks in the recesses of the mundane. It's a hard life to begin with, even before a series of trials are visited upon them. The first, a tragic and violent death, hits the family like a comet, and the second, an illness that strikes Claire years later when her familial circumstances have changed, tests the ability of both her body and her spirit to endure. The story here is complex and expansive, and Soli's prose is reminiscent of Eudora Welty's. Like that writer, Soli's sentences are tied to the land, and the effect is that as much as this is a story about people, it is also a story about place and the imprint that each makes on the other."
—HOT READS AT THE DAILY BEAST 
"Soli has again created characters readers will love and care about. She does so with deceptively simple grace: Their yearnings breeze right into your life. And while the book is more cerebral than visceral, Claire's future and Minna's past are questions that keep the pages turning. The Forgetting Tree is a journey worth taking."
—BOOK PAGE
"A lush, haunting novel for readers who appreciate ambiguity, this work should establish Soli as a novelist with depth and broad scope."
—LIBRARY JOURNAL
"Will captivate readers… with this twisting, intriguing tale of a grieving California woman. Beautiful prose and striking detail."
—PUBLISHERS WEEKLY
"Tatjana Soli's new novel is rich in both style and substance. Beautifully written, sensuous, and profound, The Forgetting Tree is a book about relationships, including the relationships you have with yourself and with your surroundings."
—SUKO'S NOTEBOOK
"The narrative at times feels allegorical, submerging her reader into a dreamlike realm where reason comes second to matters of the heart."
—FICTION WRITERS REVIEW
"This novel has it all—mystery, psychological insight, emotional truth, and—most important—characters whose lives matter. You'll fall in love with these families. Soli writes with such passion it is inescapable, lyrical, and profoundly moving. The Forgetting Tree goes on my top ten list."
—JONIS AGEE, AUTHOR OF THE RIVER WIFE
"Like her protagonist Claire who literally tastes the earth to predict the season's crops, Tatjana Soli delves deep into the soil of two magnetic and powerful female psyches to produce a novel that is lush, evocative, and hypnotic. An incredible book, richly imagined and beautifully written."
—NANCY ZAFRIS, SERIES EDITOR, THE FLANNERY O'CONNOR AWARD FOR SHORT FICTION 
"Tatjana Soli's elegant and sensuous prose will keep you spellbound.  The Forgetting Tree is an earthy book, full of beautiful surprises."
—MARIA SEMPLE, AUTHOR OF WHERE'D YOU GO, BERNADETTE
"The Forgetting Tree is a captivating, dreamlike story about the power of family ties… A lushly poetic, deeply authentic novel that surprises at every turn."
—KAT BAILEY, BOOKSHOP SANTA CRUZ
"It has been a long time since a book so drew me in and made me think as much as The Forgetting Tree by Tatjana Soli. It is a superb book, rich in imagery and delightful to read…This book will be a book club's paradise."
—LUXURY READING
"Soli's writing shines in The Forgetting Tree, and Claire is a strong, nuanced, memorable woman. This novel, although shadowed by grief, is surprisingly hopeful."
—NOMADREADER
"Tatjana Soli brought her characters to life, beyond the words upon the page, reaching into my heart and leaving a lingering trace upon my mind I shall not forget."
—MY BOOKSHELF
"The story left me in a thoughtful place for several days after I finished it… The Forgetting Tree moved me and was another reminder of why I love reading so much."
—MUSINGS OF A BOOKISH KITTY
"In the end, this is a masterful, deeply symbolic story of loss and connection and belonging."
—BOOKNAROUND