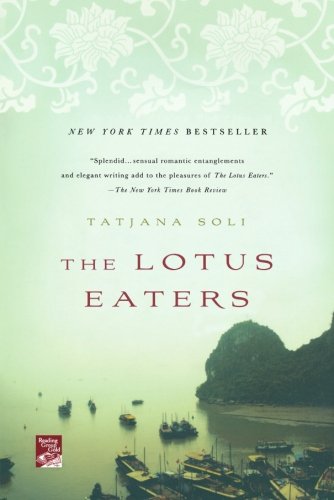 ORDER FROM
Amazon
Barnes & Noble
IndieBound
Powell's 
Kindle
Nook
Apple iBook
A unique and sweeping debut novel of an American female combat photographer in the Vietnam War, as she captures the wrenching chaos and finds herself torn between the love of two men. On a stifling day in 1975, the North Vietnamese army is poised to roll into Saigon. As the fall of the city begins, two lovers make their way through the streets to escape to a new life. Helen Adams, an American photojournalist, must take leave of a war she is addicted to and a devastated country she has come to love. Linh, the Vietnamese man who loves her, must grapple with his own conflicted loyalties of heart and homeland. As they race to leave, they play out a drama of devotion and betrayal that spins them back through twelve war-torn years, beginning in the splendor of Angkor Wat, with their mentor, larger-than-life war correspondent Sam Darrow, once Helen's infuriating love and fiercest competitor, and Linh's secret keeper, boss and truest friend. Tatjana Soli paints a searing portrait of an American woman's struggle and triumph in Vietnam, a stirring canvas contrasting the wrenching horror of war and the treacherous narcotic of obsession with the redemptive power of love. Readers will be transfixed by this stunning novel of passion, duty and ambition among the ruins of war.
Reviews
"Set amid the twin infernos of Cambodia and Vietnam in the early 1970's, The Lotus Eaters draws the reader into a haunting world of war, betrayal, courage, obsession, and love. Tatjana Soli's spare, lucid prose infuses this novel with a dramatic clarity that makes us eyewitnesses to the collapse of two civilizations.  More than that, The Lotus Eaters helps us to see and hear and feel the terrible human costs of that conflagration."
—TIM O'BRIEN, NATIONAL BOOK AWARD-WINNING AUTHOR OF THE THINGS THEY CARRIED
New York Times Review
BOOKS OF THE TIMES
by Janet Maslin
Published March 28, 2010
A version of this article appeared in print on March 29, 2010, on page C4 of the New York edition.
"Haunting debut…tough and lyrical…novel begins where it ought to end. In this quietly mesmerizing book about journalists covering the war in Vietnam, the first glimpses of the place are the most familiar. The year is 1975. Americans are in a state of panic as North Vietnamese forces prepare to occupy Saigon. The looters, the desperate efforts to escape this war zone, the mobs surrounding the United States Embassy, the overcrowded helicopters struggling to rise above the chaos: these images seem to introduce Ms. Soli's readers to a story they already know…
"The Lotus Eaters" dramatic impact even when its characters become hardened and battle-weary.
Ms. Soli has done prodigious research about the Vietnam War, particularly about the role of female war photographers, and so is able to imbue an otherwise deeply romantic book with a strong sense of history. She artfully uses Helen's autodidactic approach to photography as a way of raising questions that her readers need to answer too. What is a war photographer's mission? The book suggests that the job involves developing both a discerning eye (Sam is said to have birdlike movements, as if they allow him to look at things from many angles at once) and an analytic understanding of what the camera records.
Helen's experience peaks when she has mastered these aspects of the job. It becomes irrevocably altered when she senses the vulturelike attitude of journalists who flock to the site of a lost war for reasons of naked professional ambition. By the end of the story — in ways that bring to mind the feverishness of the Iraqi war film "The Hurt Locker," with its very different locations, job descriptions and wartime imperatives — she has been utterly transformed. She is no longer a witness to history. As Ms. Soli makes her readers understand very viscerally, Helen has become part of the history that she set out to record.
Read the entire review
New York Times Sunday Book Review
by Danielle Trussoni
April 4, 2010
It is April 1975. The North Vietnamese are marching into Saigon, the Americans are fleeing in helicopters. And in Tatjana Soli's splendid first novel, "The Lotus Eaters," a group of Western journalists sip "liberated" Champagne on the roof of the Caravelle Hotel as they reflect on all that has been lost. For Helen, a veteran photographer who made her name covering the war, the resounding absence of planes and artillery has transformed Saigon into an eerie place of "nostalgia and history and failure." Failed dreams and failed ambitions may be the very stuff from which Vietnam narratives are fashioned; but although Helen's war is over, there is no guarantee she will be on a plane home. As one of her colleagues says ominously, "The war doesn't ever have to end for us." For the interpreters of violence there will always be another war zone with new treasures of heartbreaking stories.
Read the entire review
Washington Post
by Masha Hamilton
April 3, 2010
Though the novel explores war primarily from the journalists' viewpoint, the secondary characters are generously drawn. In Soli's hands, edgy, frightened soldiers and hardened commanders rise above stock characters. But Helen is at the heart of this story as she, like many journalists, pays a dear personal price for covering violence. The Vietnam conflict has receded into the history books, but "The Lotus Eaters" feels pulled from today's headlines, full of meaning for readers whose country is once again sending men and women to the battlefields, both to fight and to document that fighting.
Read the entire review
The Times UK
by David Hayles
July 24, 2010 
(excerpt)
Don't be put off by the wistful book jacket design and the cover come-on that sounds like a bad Angelina Jolie film waiting to happen: "In a once beautiful land now a warzone, three people are thrown together by love and conflict, intrigue and chaos." This is, in fact, a thoughtful and often gruelling account of the lives of Helen Adams, one of the first female photographers in the war (inspired by the real-life photographers Dickey Chapelle and Catherine Leroy), and Sam Darrow, a Pulitzer prize-winning war junkie with whom she falls in love.
Love is the last thing they need, when, all the while witnessing carnage and cruelty, they are trying to convince themselves that they are more than ghoulish voyeurs in a pointless war. Austrian-born Soli might not have experienced the war first-hand like Marlantes (instead she lists an extensive bibliography), but she does one hell of a job of putting the reader knee-deep in the action, and performs the commendable literary feat of blending the burgeoning love story—first between Helen and Sam, then, later, between Helen and Lingh (the conflicted Vietnamese who works for the US troops), with a keen appraisal of what lies next for those attempting to return to normality after the war—as well as the impact of the war on the Vietnamese themselves.
Soli throws in moments that shock—including a soldier killing himself in front of a platoon and an horrific, pulse-racing late novel detour into the killing fields of Cambodia. She is also a dab hand at startlingly evocative imagery: when a helicopter crashes, the last thing one of the occupants sees is "Every shade of green in the world". Soli, it would seem, could write furiously well about anything.
People—(3 1/2 stars)
"The novel is steeped in history, yet gorgeous sensory details enliven the prose . . . . 35 years after the fall of Saigon, Soli's entrancing debut brings you close enough to feel a part of it."
More Magazine 
by Ellen Emry Heltzel
July/ August 2010
In this superb novel, American photojournalist Helen Adams is drawn to the turmoil of the Vietnam War, which cost her brother his life. While her lens soon makes her as famous as her pictures, Helen survives by taking cues from the jungle-savvy colleagues who are her paramours. But she must learn for herself the real trick of her trade: how to find truth amid the fog of war.

Boston Globe 
by Carmela Ciuraru
March 30, 2010
A Woman in a War, Amid the Damage
The author explores Helen's psyche with startling clarity, and portrays the chaotic war raging around her with great attention to seemingly minor details. The real heartbreak in "The Lotus Eaters'' is found in subtle, unexpected moments: "I'm hoping you are strong,'' Linh tells Helen soon after meeting her. "I am thinking this is going to be a very long war.''
Read the entire review
The Independent
The Lotus Eaters, by Tatjana Soli
Reviewed by David Evans
January 23, 2011
Moral Ambiguity brought into Sharper Focus
Tatjana Soli's debut novel begins amid the chaos of the US withdrawal from Saigon in 1975.
Helen, a photojournalist, and Linh, her injured lover, battle through the crowds to board an evacuation helicopter. But then Helen jumps out, desperate for a few final photographs, and leaves Linh to escape alone. It is a masterful opening, with a strikingly cinematic style: fitting for a book that examines how the camera lens refracts reality. As Helen becomes inured to the horrors of conflict, Soli explores the moral ambiguity of war photography: her bold and haunting novel evokes the ghoulishness of the profession and the peculiar detachment it requires.
Historical Novel Society
Helen Adams is an American photojournalist in love with South Vietnam because it is so "unlovable" during its transition in 1975. The sense of impending doom is everywhere. In those critical weeks, thousands of American military are abandoning Saigon and its beautiful, outlying villages to Ho Chi Minh, the North Vietnamese leader who will soon rule all of Vietnam.
Will one more photo really matter? To Helen, they all matter—or none matters. Her desire to be the perfect wartime photojournalist/correspondent is almost inexplicable. Meanwhile, in the process of entering this brutal environment and taking photos of the most horrific scenes imaginable, she falls in love with two entirely different men.
The intertwining themes of love of this beautiful, exotic country and how personal love arises are focal to the plot and character here. Is the brutality and destruction of war or the indomitable spirits forged by the war the transforming element? Does love enable Helen, Darrow, and Linh to keep doing their vital jobs, jobs that the Americans have lost faith in? Do the deaths of their beloved friends make them love Vietnam more and instill in them a desire to remain after the American withdrawal? And just when is it more than okay to be a traitor to save one's country from total oblivion?
The Lotus Eaters is one of the most honest, endearing, searing, and intriguing stories about the Vietnam War that I have ever read and as far as I'm concerned, one of the finest novels of the Vietnam era. It goes so much deeper and wider than a typical "war is hell" story. Tatjana Soli has caught the essence of this devastating conflict and the loves that ensue during and after the destruction it wrought. Highly recommended. —Viviane Crystal
Kirkus Starred Review
THE LOTUS EATERS
An impressive debut novel about a female photographer covering the Vietnam War.
Helen Adams is an experienced photojournalist with ten years in Vietnam on her résumé. The cinematic opening chapter shows her at the center of the chaotic, violent, desperate streets of Saigon in 1975, on the cusp of the communist takeover, as Vietnamese and Americans race to escape. The narrative then flashes back to a decade earlier, when Helen arrives in bustling Saigon as a young, naïve photographer so anxious not to "miss out" on the war that she has dropped out of college to travel there. Making up in grit what she lacks in experience, she secures photography work, scrappily clawing her way up from tamer lifestyle pieces to covering field missions and combat. She is taken in by a fellow ex-pat named Darrow, a photographer whose obsession with the war and the power his camera gives him to capture it dominates his every move. They enter into a tumultuous, passionate love affair as the war worsens. Though she fears becoming as reckless and singly motivated as Darrow, Helen transitions into a seasoned war photographer, battling her emotions about the inhumanity of war with her professional purpose. She also takes on a unique challenge as one of the few working female ex-pats in Vietnam. In tandem with the two Americans but undeniably distinct from them, Linh, Darrow's enigmatic Vietnamese assistant, steadfastly walks the difficult line between patriot and traitor, and the three form a friendship out of their harrowing situation. When tragedy strikes, Linh and Helen are thrown together and eventually find their friendship developing into love. This is a visceral story about the powerful and complex bonds that war creates. It raises profound questions about professional and personal lives that are based on, and often dependent on, a nation's horrific strife. Graphic but never gratuitous, the gripping, haunting narrative explores the complexity of violence, foreignness, even betrayal.
Moving and memorable.
Starred Library Journal
Seen through the lens of young American freelance photographer Helen Adams, this evocative debut novel is a well researched exploration of Vietnam between 1963 and 1975, when the United States pulled out of the conflict. Helen, who has come to Vietnam partly to discover what really happened to her brother, is determined to see the real Vietnam, combat and all. The narrative focuses on Adams, Pulitzer Prize-winning combat photojournalist Sam Darrow, and his Vietnamese assistant, Linh, revealing their relationships, loyalties, and ambitions and the terrible toll the war takes on them all. As readers, we come to understand the characters' attraction to and ambivalence about the war, how love can survive and thrive under such extreme conditions (Helen and Linh have an affair), the courage needed to report under war conditions and the journalistic principles involved, and the fragile beauty of this war-torn country and its people. VERDICT: Like Marianne Wiggins's Eveless Eden and Tim O'Brien's The Things They Carried before it, Soli's poignant work will grab the attention of most readers. A powerful new writer to watch. [See Prepub Alert, LJ]
—Gwen Vredevoogd, Marymount Univ., Arlington, VA
"If you have wondered what it's like to be a combat photographer and what kind of toll such brutal work exacts on the soul, you must read The Lotus Eaters, Tatjana Soli's beautiful and harrowing new novel. Its characters are unforgettable, as real as the historical events in which they're enmeshed."
—Richard Russo, Pulitzer Prize-winning author of Empire Falls, Bridge of Sighs and That Old Cape Magic
"Set amid the twin infernos of Cambodia and Vietnam in the early 1970's, The Lotus Eaters draws the reader into a haunting world of war, betrayal, courage, obsession, and love. Tatjana Soli's spare, lucid prose infuses this novel with a dramatic clarity that makes us eyewitnesses to the collapse of two civilizations.  More than that, The Lotus Eaters helps us to see and hear and feel the terrible human costs of that conflagration."
—Tim O'Brien, National Book Award-winning author of The Things They Carried
"… a vivid and memorable evocation of wartime Vietnam and the sort of people who lived out the darkness of the war. Foreign and Vietnamese, these people were of a time and place almost lost to history yet never to be forgotten. This is the kind of novel that brings it all back. Tatjana Soli is a perceptive and talented writer. I was most impressed by The Lotus Eaters and enjoyed it from start to finish. "
—Robert Stone, author of National Award-winning Dog Soldiers and NBA Finalist Damascus Gate.
"The very steam from Vietnam's jungles seems to rise from the pages of Tatjana Soli's tremendously evocative debut, a love story set in the hallucinatory atmosphere of war, described in translucent, fever-dream prose. "
—Janice Y. K. Lee, author of The Piano Teacher
"The Lotus Eaters is a mesmerizing novel. Tatjana Soli takes on a monumental task by re-examining a heavily chronicled time and painting it with a lovely, fresh palette. The book is a true gift from a promising new writer."
—Katie Crouch, author of Girls in Trucks and Men and Dogs
"Beautiful and harrowing, The Lotus Eaters explores the world of war, themes of love and loss, and the complicated question of what drives us toward the heroic with remarkable compassion and grace. Tatjana Soli's exquisite first novel is among the best I've read in years."
—Meg Waite Clayton, author of The Wednesday Sisters
"A haunting story of the powers of love and war, the demands of history and desire, and the unforgettable people who seek, against overwhelming odds, a kind of redemption. A great read from a writer to watch."
—Janet Peery, National Book Award Finalist for River Beyond the World